All Products
View Other Products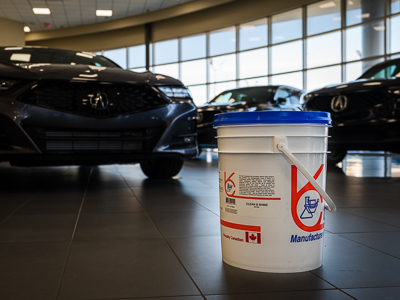 Packaging
205 litre drums
20 litre pails
Clean & Shine
For use in pressure and touchless vehicle wash systems. Non corrosive and biodegradable Clean & Shine is a revolutionary vehicle wash detergent. Formulated with unique surfactants, wetting agents and detergents designed to strip dirt and road film off of vehicles and equipment quickly and easily. Clean & Shine is formulated with a special rinsing agent making the water bead off of the vehicle's surface leaving a high shine.
call
email
Applications
Touchless and pressure wash systems.
Directions/Dilutions
Dilute 1 part Clean & Shine to 300 parts of water. May be diluted further depending on temperature, hardness and pressure of water used.
| Laboratory Analysis | |
| --- | --- |
| Appearance: | Blue, Clear Liquid |
| Odour: | None |
| Corrosion: | Non-Corrosive |
| Flammability: | None |
| Solubility: | Excellent |
| Detergency: | Excellent |
| Toxicity: | Non-Toxic |