All Products
View Other Products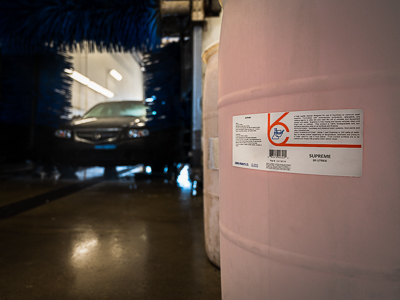 Packaging
1000 litre totes
205 litre drums
60 litre pails
20 litre pails
Supreme
A high quality cleaner designed for use in touchless or pressure wash systems. Formulated with revolutionary surfactants, detergents and wetting agents to strip dirt and road film off of vehicles and equipment quickly and easily. Supreme is free rinsing and leaves vehicles clean and bright with no residue. This product is 100% biodegradable and non-corrosive therefore safe on all surfaces and finishes.
call
email
Applications
Touchless and pressure wash systems.
Directions/Dilutions
Dilute 1 part Supreme to 350 parts of water. May be diluted further depending on temperature, hardness and pressure of water used.
| Laboratory Analysis | |
| --- | --- |
| Appearance: | Green Liquid |
| Odour: | None |
| Corrosion: | Non-Corrosive |
| Flammability: | None |
| Solubility: | Excellent |
| Detergency: | Excellent |
| Toxicity: | Non-Toxic |