All Products
View Other Products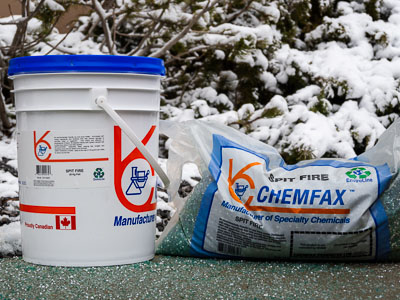 Spit Fire
An environmentally friendly ice and snow melter. Formulated with unique ingredients and inhibitors that help prevent damage to concrete, rebar and vegetation. Fast acting and effective in temperatures of below -36°C with an indicator dye to help show where it has been applied.
call
email
Applications
Sidewalks, steps, parking lots, bridge and anywhere snow and ice needs to be removed.
Directions/Dilutions
Use as is. Apply at a rate of 160 grams per square meter on area to be de-iced.
| Laboratory Analysis | |
| --- | --- |
| Appearance: | Green crystal |
| Solid Contact: | 100% |
| Freeze Point: | -36°C |
| Solubility: | Water Soluble |
| Absorption: | Absorbs Moisture |
| Corrosive: | Non-Corrosive |